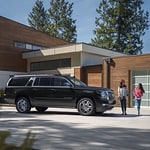 The Chevrolet Suburban is one of the safest SUVs on the road. With a variety of safety features, it is perfect for families who want to feel safe while driving. The Chevy Suburban was recently named a Top Safety Pick by the Insurance Institute for Highway Safety (IIHS). Let's take a look at some of the safety features that make this SUV so popular.

1. The Suburban has a steel frame that is designed to absorb impact in the event of a collision.

2. The SUV is equipped with airbags throughout the cabin, including side-impact airbags and curtain airbags.

In addition to its strong frame and airbag protection, the Chevrolet Suburban also has a number of other safety features that make it a top choice for families. These features include:
A rearview camera to help drivers see what is behind them when backing up
StabiliTrak, a stability control system that helps drivers maintain control of the vehicle in slippery conditions
OnStar, a subscription-based service that offers features like roadside assistance and emergency services.