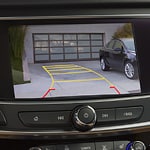 A camera attached to the back of your car that aids you when reversing is a backup camera. Also known as a reverse or rearview camera. The camera helps you as a driver in Latrobe, PA to have a clear view of the back when reversing your car.
This added view from the camera is very suitable to prevent crashes when backing up. The camera provides a broader field of view, where turning your head as a driver won't help access it.
The backup camera system also includes special sensors fitted at the back of your car. These sensors detect possible objects that you can bump into, hence alerting you.