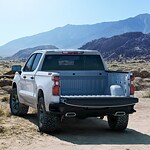 We have the Chevrolet Silverado 1500 at Latrobe Chevrolet! This Chevy truck offers high-end technology features in apps and in-truck tech. If you want a vehicle that helps your productivity by saving you time, the Silverado 1500 is an attractive option.
The Silverado 1500 syncs with your Apple or Android smartphone and allows you to make phone calls, text, and access other apps on your smartphone. You can also use Alexa to check your orders and even control your smart home devices from your Silverado 1500.
This Chevy Silverado offers passengers the option to connect to 4G LTE so they can keep up with business reports and homework as you drive! The Wi-Fi is also helpful during a long drive, where a movie night in the Silverado 1500 is a great option. There is also excellent internet-based navigation to keep you on the right track when you need it!