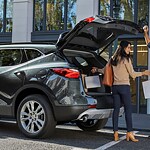 It is not enough for your vehicle to have a comfortable and spacious interior these days. You want to stay connected with the latest technology that will make your life simpler while you are out driving around Latrobe, PA. That is why the new Chevrolet Blazer has the latest in-vehicle technology to help keep you connected away from home.
The Chevy Blazer's infotainment system functions as your smartphone. It supports Apple CarPlay and Android Auto, which allows you to access your phone, text messages, listen to your music playlist, and access the navigation system. Bluetooth gives you hands-free access to all these features.
Amazon Alexa can go anywhere with you because it is built into the Chevy Blazer. You can use voice commands to access SiriusXM, Pandora, Spotify, or Amazon Music. Alexa also has car-to-home capabilities. You can open the garage, turn on the thermostat, and turn the lights on in your home from your Chevy Blazer.