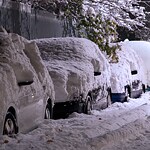 At Latrobe Chevrolet, we enjoy helping our customers keep their vehicles in top condition. Winter is a season that brings additional challenges to drivers. The following car care tips will help keep you and your car going throughout the winter months.
While you may only drive your car through Latrobe streets for a brief commute or errands, snowy streets still make driving more difficult. Snow tires have deeper tread patterns and gripping edges to keep you in contact with the road. Getting a set of snow tires is one way to stay safer in the winter months.
Another winter safety tip is good fuel management. When the temperatures plummet, your gas tank should always be at least half full, so you don't get stranded in the cold without heat. Preparing your vehicle for winter will keep you safer and maintain its good condition until Spring arrives.